A GOOD REASON TO CELEBRATE
It all started in 1972 when two friends, Sedat Sırrı Sezer and İsmail Hakkı Yılmaz, founded HasTavuk for feed and table egg trading in Bursa. The company quickly grew, building up its own hatchery and parent stock farm, until 1988, when first LOHMANN white layer parent-stock chicks arrived.
There began the very fruitful cooperation between HasTavuk and LOHMANN BREEDERS. The first brown parent-stock followed in 1992 and we are very proud to have been part of this success story for so long.
The founder takes the floor
Who better to summarize this success story than one of the founders himself? Mr. İsmail Hakkı Yılmaz, did so in a very emotional speech on the occasion of the 50th anniversary celebration in Bursa.
"We established this company with Mr. Sedat 50 years ago. We met at a restaurant through friends and then we started such a business. We had nothing. We started by selling feed in a 50 square meter shop. At that time, we had a porter, an accountant, and Mr. Sedat and me. After 50 years, we have 2,200 employees today."
Today, in fact, HasTavuk has production facilities all over Turkey, mainly in Bursa, Balıkesir, Eskişehir and Afyonkarahisar, and abroad in Georgia and Ukraine.
In total, there are 4 hatcheries, 3 feed production factories, 1 white meat production facility, 1 advanced processing facility, 9 pullet production and nearly 30 breeding farms.

Using innovations and the most advanced technology is what made HasTavuk different and led the company to success, which is certified with the quality and performance awards it has received.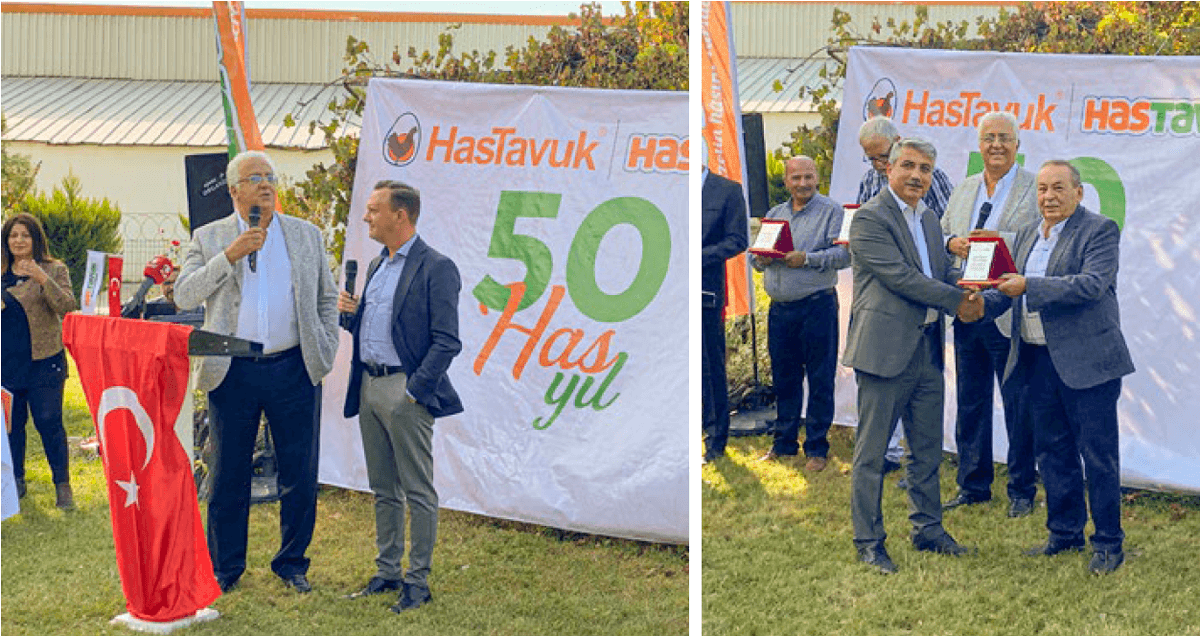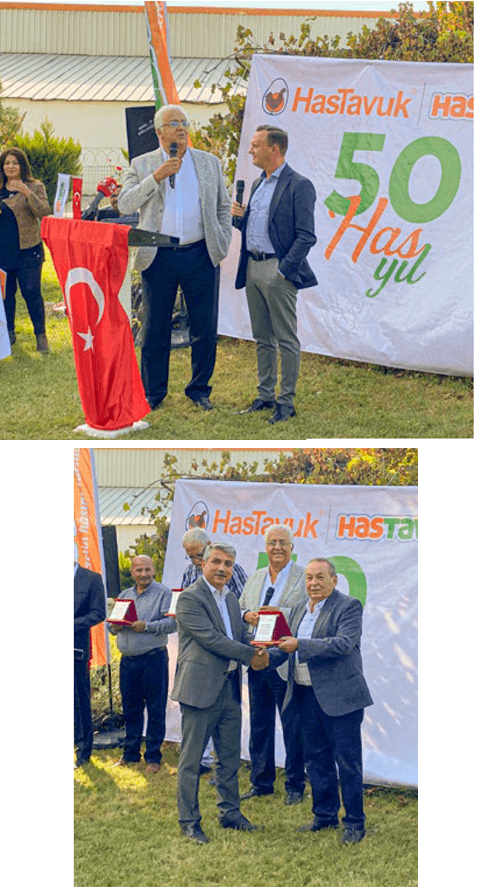 Celebrating 50 years
That is a good reason to celebrate. The anniversary cake was ready to be cut and Lohmann Breeders is delighted to be prat of that. Our Managing Director Mr. Christoffer Ernst as well as Mr. Mohammed Chairi, Business Development Manager for Africa and Middle East and our Director of Global Technical Service, Farhad Mozafar were involved in this honourable task and could take part on this great event where the founders as well as the next 3 generations celebrated together.
Honorary Chairman Mr. İsmail Hakkı Yılmaz, Chairman of the Board Mr. Müjdat Sezer, Vice Chairman of the Board Mr. Özgür Yılmaz, Members of the Board Ms. Özlem Yılmaz, Mr. Bahadır Sezer, Mr. Barış Sezer and the General Managers of the company Mr. Şahin Aydemir, Mr. Müfit Yavuz, Mr. Erdinç Pir attended the celebration, of course, with many employees.

As we know from experience, the achievement of a company depends always on a well-functioning team. As a sign of gratitude, the oldest as well as the newest employees were honoured with a plaque.
Congrats to HasTavuk on the company's 50th anniversary! Many thanks for the excellent cooperation! We are proud to have accompanied HasTavuk for so many years and hope that we can continue to contribute to its success.

The entire LOHMANN Team wishes all the best and a future that is just as successful as the past.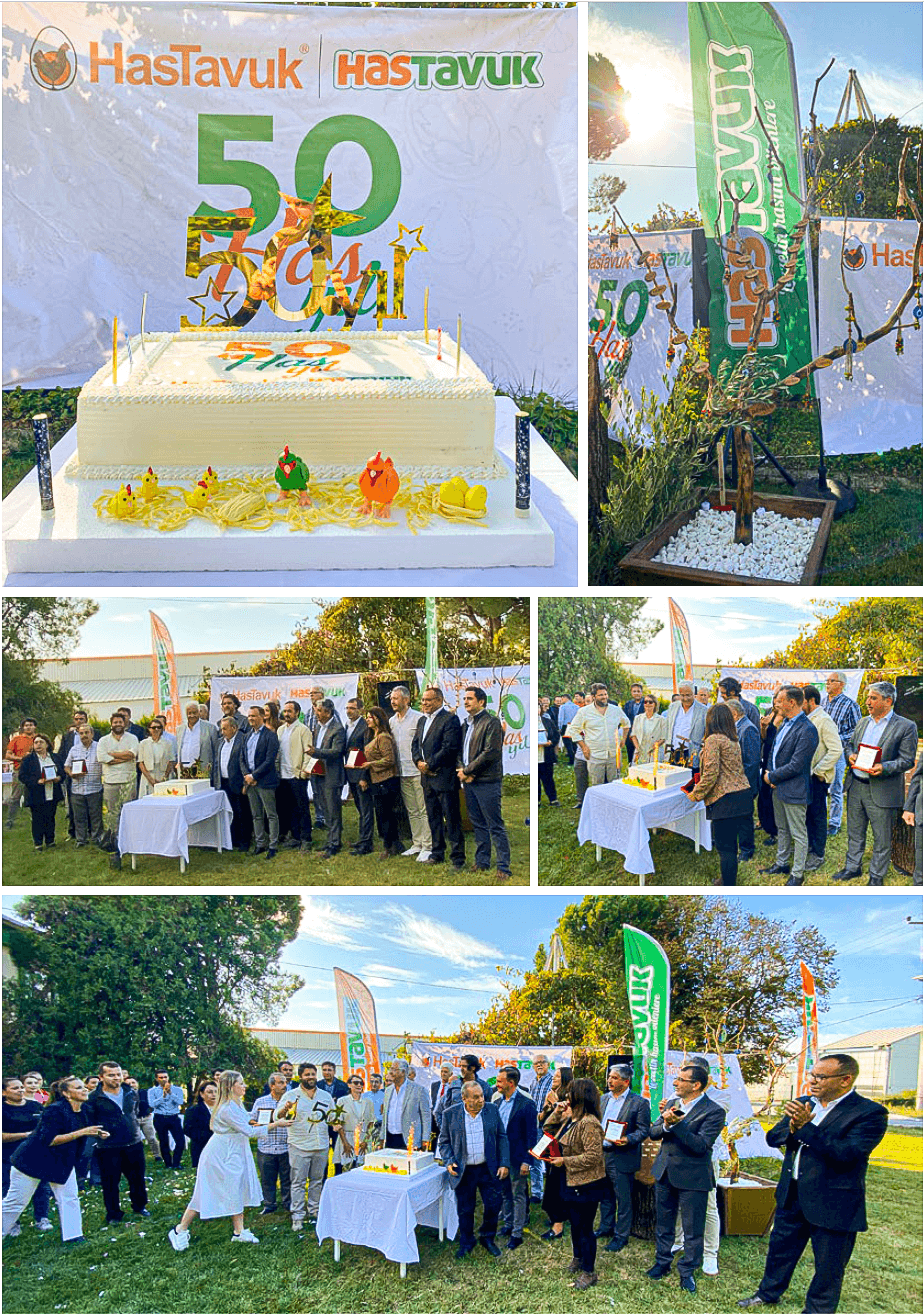 OUR PUBLICATIONS